As requested, I'm going to try to keep a bit of a diary on here for Mushroom and the odd things he gets up to.
I'm afraid I may be a bit poo with updating it, because I've got a lot of work on at the moment and it's about all I can do to actually look after Mushroom and scribble down the odd note in his little journal! But I'll do my best
Right, for any not familiar with the little guy, this is my fave piccy of Mushroom, and he's a Takifugu Ocellatus: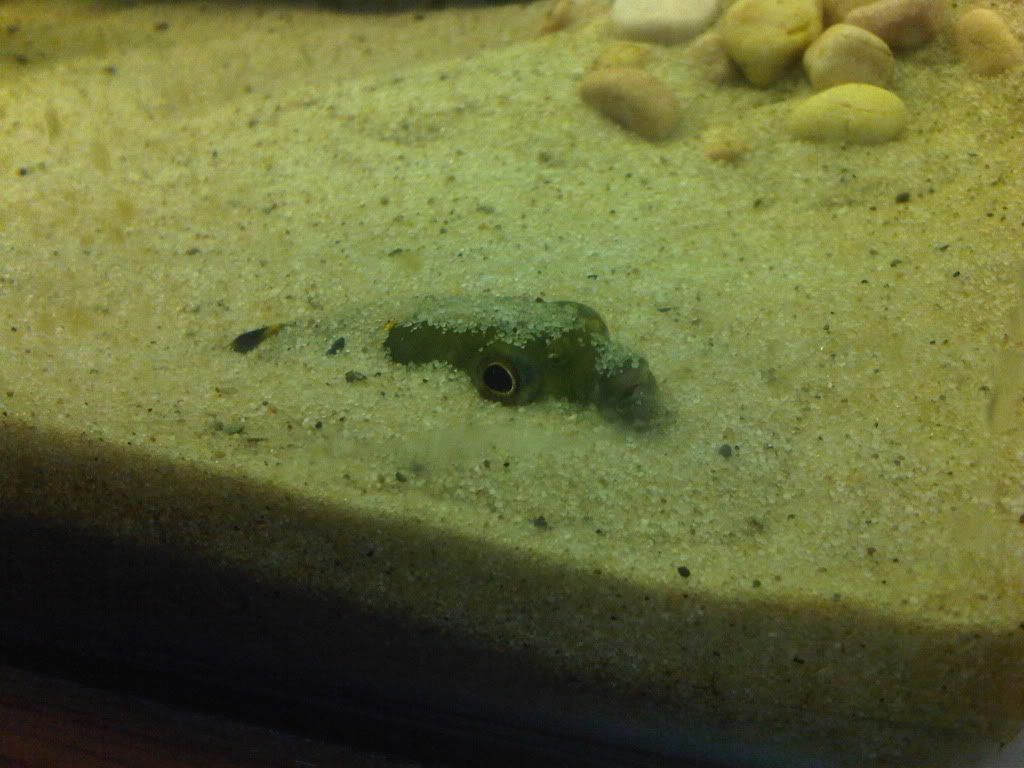 And this is where he currently lives:
(Excuse my awful photography skillz! Do you like the kitchen table...? That blue thing would be it's reflection
)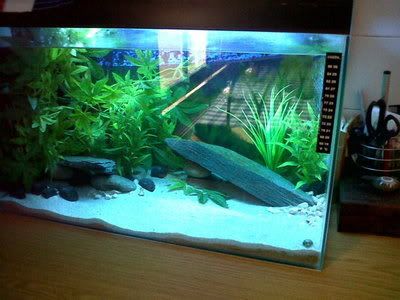 Spot the pufferfish! That's him in the bottom right hand corner. Hiding from the evil soul-stealing picture making thing!!
Now, the good news is he'll be moving very soon! I did get veto'd on the bigger tank by the o/h. Who said if I go and buy another tank I'll be losing a boyfriend... But I already have a huuge community tank in my lounge. (Which was actually a gift! Complete with twin lights, and a fluval filter, and a beautiful mahogony cabinet and goodness knows what else!) It would be ideal for Mushroom long term
. It's been a community tank for some time now, so the fish are starting to reach "that age" and sadly, slowly dropping off. My intention is to move the remaining fish that can go into my guppy tank, and rehome my lovely plec, Plecosaurus with my dad. (He's too big for my guppy tank, and I can't face giving him to my lfs, who did offer to take him, cos I'll miss him! But this way, he'll only be up the road)
So, Mushroom will be getting the whole thing to himself!! I've got to do a few modifications, but I'm going to stick with the current filtration for the time being. I have plant lights in there at the moment, so they need to go, and I'll be needing a better skimmer than the little one I've currently got in his old tank.
I'm very excited for him! But it's going to take a bit of time to work out the move. I've got to make a decision on the salinity for a start. He's currently at 1.006, and the target is 1.018. But the big tank is FW. So I'm a bit stumped. The filter is cycled, obv, so it seems silly to waste that. If I just up the salinity to match, I'll kill the bacteria. So I think the only thing I can do is up it to 1.002 and acclimatise him. But if anyone has a better suggestion, I'm all ears
because that doesn't seem ideal.
Next bit of news is this little guy!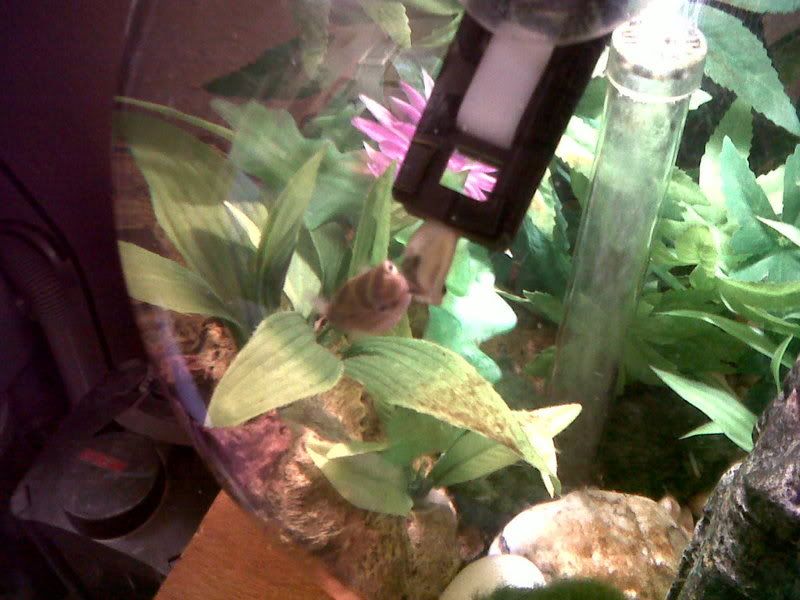 Fig 8s seem to be impossible to get around here! So when I spotted one in an LFS, I snapped him up quick! I've been dying to have one for months and months, and that's what Mushroom's tank was originally for. He's being "babysat" in a 30L Biorb at the moment, (modd'd with extra filtration anyway, and sitting at 1.002 currently) and waiting patiently to move into Mushroom's old tank when Mushroom moves into the big tank. (With any luck, this weekend! But failing that, no longer than next weekend) Can't decide on a name for him at all. We were thinking of calling him Mister Crowley, because he's got the infinity symbol on his back, and that makes me think of the magician from the Tarot Cards. But it's still undecided. Might just call him Aleister!
So, to finish up, here's a couple of more recent pics of Mushroom. I swear the little bugger's growing, so I'm itching to get him into that bigger tank quick!
"That's-a-my-cockle!!"
"Look at my big chunky belly!"
"Gish-a-Kish!"