LFS yesterday
Posted: Wed Jun 22, 2011 10:54 am
i was at a LFS yesterday picking up some crickets for my beardie and as always i take a stroll through the fish. this place i went to reminds me a lot of a pet store i used to work at. its a little mom and pop shop but known in our area as a good store. upon first arrival inside the store doesnt look that great, honestly it looks a little messy and the dogs are in play pens together but as a customer you can lean over and reach in to pet them, like in the pet store i worked at, you could reach and pet any dog you would like that were in the bigger pens. but anyway, the main reason i made this thread is for PufferPunk, i saw a gorgeous pleco(phantom pleco maybe?), but he was new because it was in the tank but no sign yet and their fish days are tuesday and friday. first picture of the pleco was without flash from my camera, the second one is with the flash, you can really tell his colors that i was seeing with my naked eye, i really liked him
without flash: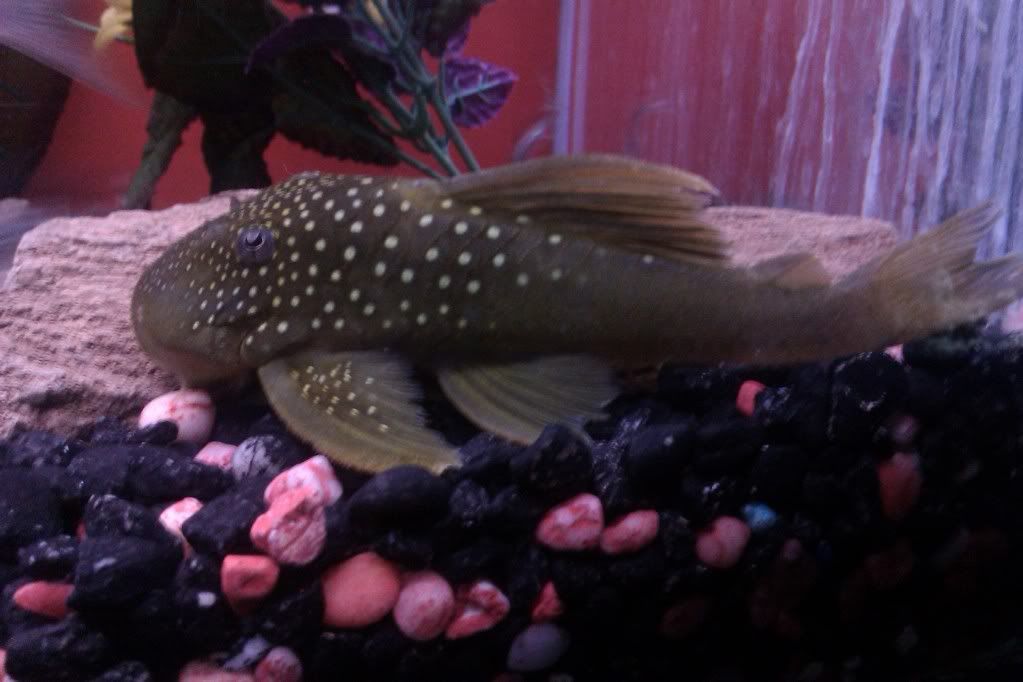 with flash:
another fish i really liked, it was a cichlid but im not sure what kind. it was labeled as a leopard cichlid. usually this store is very good with naming correctly and keeping proper conditions. but i couldnt find anything on this type of cichlid. he was adopted by the pet store recently and is $15 but shes huge(store said it was female and laid eggs)! probably around 10 inches. i really enjoyed the personality this fish had. she was very mean probably from recently laying eggs, but personable. you went to the front of the tank and she came to the front and flared up her gills, you put your hand near her she flared up again and flashed at your hand. then i ask what size tank she was in... a 29G!!! i know thats too small for the fish and so did the owner, thats why shes in the pet store for sale now. i didnt think to take a full shot of the fish because i didnt think i would have a problem searching for it. i think its a wolf cichlid just from a quick search and ID. im interested in possibly getting it but only if i can accommodate her and make sure she gets a nice home after being stuck in something so small for her life so far. my roommate tried really hard to talk me into getting her last night but i knew i couldnt just spur the moment shop especially with having an empty tank on hand currently. i am also a big fan of growing fish out, but i really liked her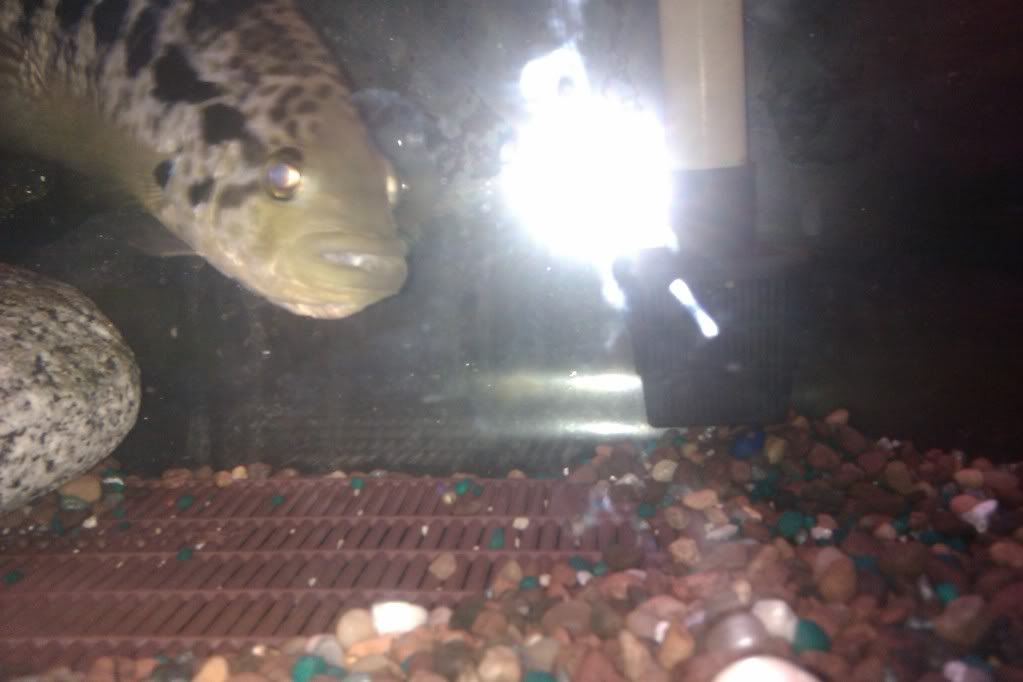 sorry for book of a story, but there was also a dog they had that i wanted to share. it was an american bulldog/pit bull mix. GORGEOUS!!! all white with 1 spot at the base of the tail. also including picture
enjoy, comment if you would like, but most importantly if you know anything about this fish or know the correct name, let me know please! im very interested in getting it but i dont want to if i cant care for her.
you can barely see the lone spot he wouldnt sit still for too long