Forum rules
Would you like to enter our Puffer of the Month photo competition?
Each month's winner is not only featured on our home page for the following month, but is automatically entered into our annual Puffer of the Year competition, with a grand prize of a $25 gift certificate to The Puffer Store!

Full rules and entry instructions can be found here: viewtopic.php?f=21&t=3455
Moderator
Posts: 1292
Joined: Fri Feb 10, 2012 12:37 am
Gender: Male
My Puffers: Green Spotted Puffers
Location (country): USA
Contact:
You have voted and the featured puffer of 2013 is...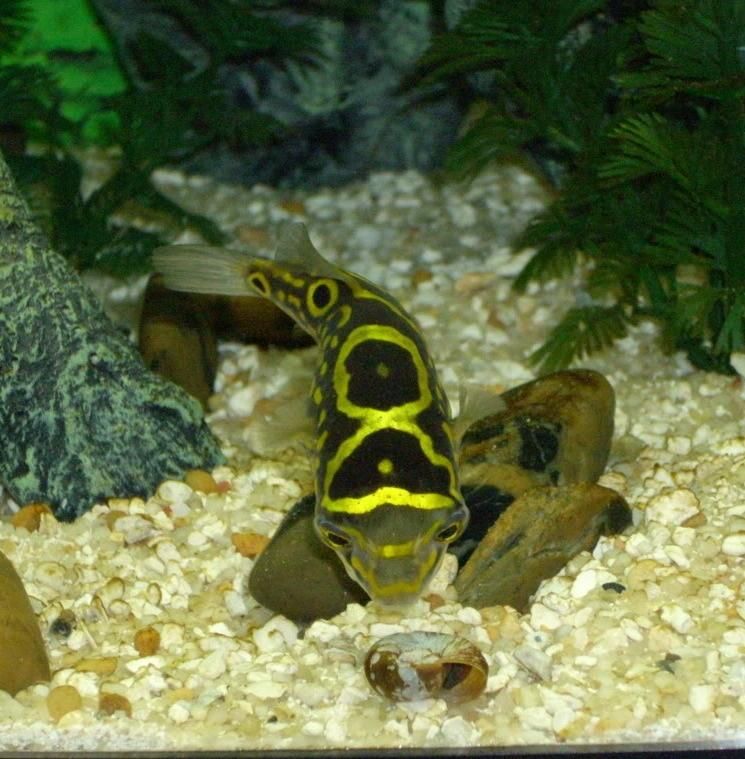 JRC3 and his beautiful Figure 8 puffer! Congrats!
---
Mentor
Posts: 6155
Joined: Tue May 31, 2005 4:39 pm
Gender: Male
Location (country): East Coast, USA
Great shot, well earned reward!
Where's the fish? - Neptune
---
Queen Admin
Posts: 31641
Joined: Tue May 31, 2005 11:06 am
Gender: Female
My Puffers: Filbert, the 12" T lineatus
Punkster, the 4" red T miurus
Mongo, the 4" A modestus
2 T biocellatus
C valentini
C coranata
C papuan
Also kept:
lorteti
DPs
suvattii
burrfish
T niphobles
Location (country): USA, Greenville, SC
Location: Chicago
Contact:
Definitely a great crisp action shot, showing why we love these beasts so much! Now if we only had some Tech Staff to post this on our Homepage.
You are getting sleepy... you only hear the sound of my voice... you must do water changes... water changes... water changes... water changes...

"The solution to pollution is dilution!"
---
Moderator
Posts: 5298
Joined: Tue Apr 12, 2011 4:28 pm
Gender: Male
My Puffers: lineatus R.I.P, South American puffer. Valentini puffer, porcupine puffer.
Non puffer
Danios, Tetras, Redtail Rasporas,
Harlequins, CAE's, Yoyo
Loaches, Clown loaches ,Eels, various shrimp, tangs,wrasses, damsels, chromis
Location (country): Brighton, England
Location: brighton , england
I'm sure sgt with his know how could figure it out wink wink lol
It's amazing how easy maintenance is. If done regularly and thoroughly
---
Fahaka Puffer
Posts: 904
Joined: Wed Jul 07, 2010 4:10 pm
Gender: Male
My Puffers: F8(55g)
F8 (46g)
4-DP(29g)
Location (country): U.S.
Location: S.W. OH
Thanks, guys.
Here are a few other pics of the same session. Shot with a cheap Polaroid camera. Something about the lighting made it take good pics at that time as it only has auto focus.
I'm on a crap NookHD right now so I don't know if those pics are too big for the forum.
There are many knowledgeable fish keepers on this forum willing to help and give great advice...The advice is free; What you choose to do with it gives it value.
---