Forum rules
Would you like to enter our Puffer of the Month photo competition?
Each month's winner is not only featured on our home page for the following month, but is automatically entered into our annual Puffer of the Year competition, with a grand prize of a $25 gift certificate to The Puffer Store!

Full rules and entry instructions can be found here: viewtopic.php?f=21&t=3455
Former Staff Member
Posts: 1812
Joined: Sat Nov 25, 2006 8:04 pm
Gender: Female
My Puffers: 1x GSP (Bolla), 1x m. something. Bought as a leiurus, maybe a turgidus (Tiger), 1x c. irrubesco (Tott(a) aka Houdini) 1x c. salivator (Jack the Ripper), 1x m. cochinchinensis (Hufflepuff - R.I.P.), 2x c. lorteti (Tommy and Tigern = Calvin and Hubbes), 1x m. suvatti (Koseklumpen), 1x m. palembangensis (Dragonfly), 2x t. biocellatus (Koken and Fiken).
Location: Askim, Norway
Aaand we have a winner. This month's winner is
Tim
, with his F8
Patch
! Congratulations!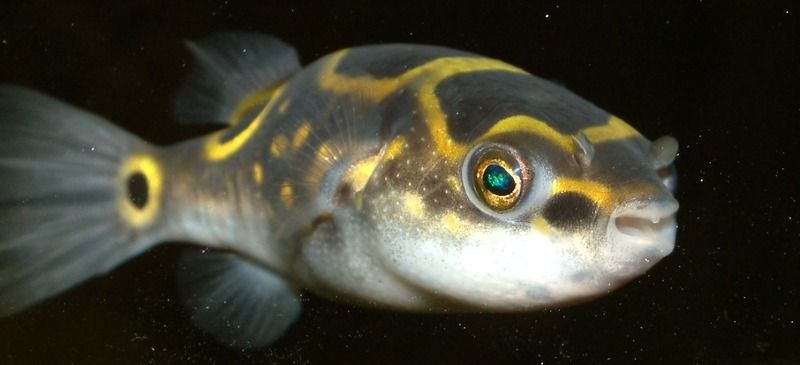 Inger Anne
~*~*~*~*~*~*~*~
Just think how stupid the average person is, and then realize that half of them are even stupider! -George Carlin
---
Fahaka Puffer
Posts: 583
Joined: Fri Sep 02, 2011 1:45 pm
Gender: Male
Location (country): Sweden
*A wild water plant appears, Pig the Green Spotted Puffer is intimidated*
---
Mbu Puffer
Posts: 2019
Joined: Sun Jan 24, 2010 2:18 pm
Gender: Female
My Puffers: Currently
2 Adult Green Spotted Puffers
1 Fangs Puffer
1 Baby Green Spotted Puffer
Location (country): USA (NC)
---
Moderator
Posts: 5298
Joined: Tue Apr 12, 2011 4:28 pm
Gender: Male
My Puffers: lineatus R.I.P, South American puffer. Valentini puffer, porcupine puffer.
Non puffer
Danios, Tetras, Redtail Rasporas,
Harlequins, CAE's, Yoyo
Loaches, Clown loaches ,Eels, various shrimp, tangs,wrasses, damsels, chromis
Location (country): Brighton, England
Location: brighton , england
Congrats fella
It's amazing how easy maintenance is. If done regularly and thoroughly
---