Entries:
1.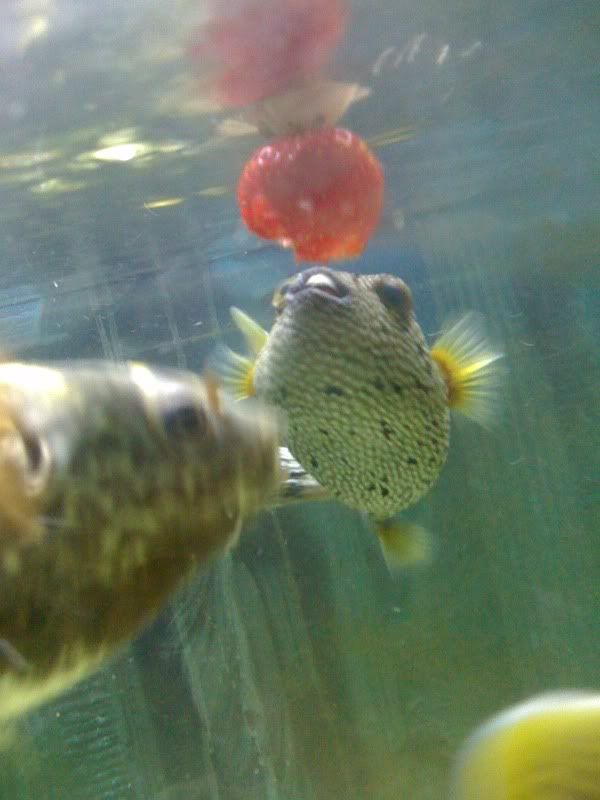 - Species: Arothron Meleagris
- Name of Puffer: Spotty
- Age (if known): 6 months
- Size: 4.5"
- Brief description: Strawberries and Friends
2.
Species: Tetraodon fluviatilis
Name: Snips
Age: 1.5 years
Size: 4 inches
Description: Snips caught on the photo while cruising through the tank....
3.
my arrowhead puffer named suvattii
species- tetraodon suvattii
not sure about the age but i have had him for almost a month
he is about 4 and a half inches
he keeps to himself alot but during feeding time he is all over his tank in this picture he is chasing down some krill
4.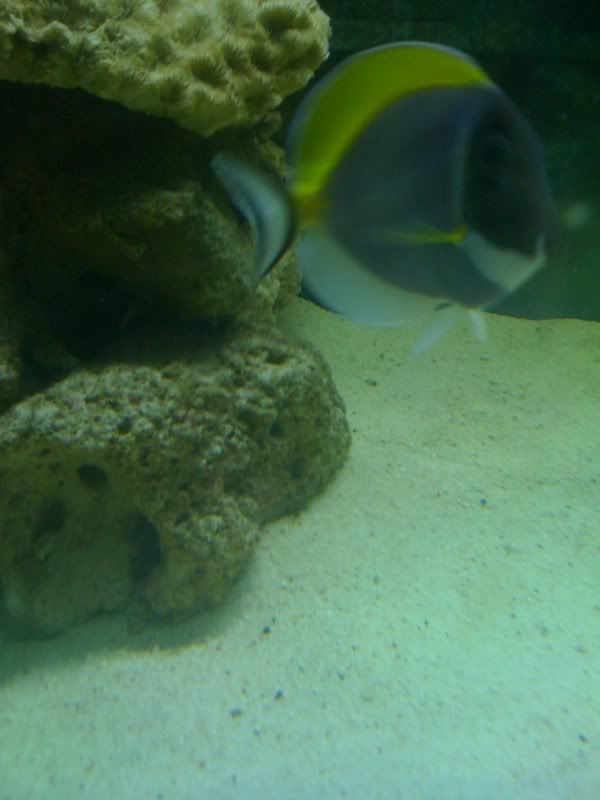 Fahaka puffer, named et, approx 3 mths at time of photo 3 inches approx now over a foot long . This is him in his temporary home whilst his tank cycled lives with 2 Chinese algae eaters.
5.
species: Congo Puffer
name: Olivia
age: ?
size: 3 inches
brief description: Olivia is new to our family, picture taken in late June, after only nine days in her new home
6.
- Species: Tetraodon Biocellatus
- Name of Puffer: Figgy
- Age (if known): month and a half with me
- Size: about an inch and a half including tail
- Brief description: Figgy loves the camera! (If food is involved!)
7.
- Species: Tetraodon Nigroviridis (Green Spotted Puffer)
- Name of Puffer: Pluto
- Age: Juvenile ~ owned for 4 months
- Size: ~ 3 inches
- Brief description: Photograph was taken in Pluto's 30 gallon home. He has no other tank mates.
8.
Their names are Spike & Puff.
I'm pretty sure Spike is a male, but there is no brown line on his belly yet.
Puff is definetly a female with a big fat white belly
I have 6 total, but these 2 are best buddies.
Carinotetraodon Travancoricus (Dwarf Puffers / Pea Puffers)
6mo & 3mo old (guessing) I bought them both about 3 weeks ago.
1" & 3/4" (estimated sizes)
This picture was accidental. I was trying to get a pic of my small female Bristlenose Pleco to compare to my Bull Bristlenose.
But, she swam away when I clicked the camera. Later when I downloaded the pictures, I was surprised to see these two in the corner hanging out. It was soooo cute that I made it my avatar.
9.
pecies: Fiji Orangetail Toby (Canthigaster Solandri)
Name: Camille
Age: approx 2 1/2 years
Size: 3 inches
Description: Camille sound asleep on the live rock.
10.
-Porcupine Puffer
-Diodon holocanthus
- Petey
- Ive had him Since May 20th
- 2 inches
- His current home 29 gallon tank , Soon to be 150-200 gallon