Queen Admin
Posts: 31554
Joined: Tue May 31, 2005 11:06 am
Gender: Female
My Puffers: Filbert, the 12" T lineatus
Punkster, the 4" red T miurus
Mongo, the 4" A modestus
2 T biocellatus
C valentini
C coranata
C papuan
Also kept:
lorteti
DPs
suvattii
burrfish
T niphobles
Location (country): USA, Greenville, SC
Location: Chicago
Contact:
You are getting sleepy... you only hear the sound of my voice... you must do water changes... water changes... water changes... water changes...

"The solution to pollution is dilution!"
---
Puffer Fry
Posts: 45
Joined: Sun Dec 02, 2018 9:16 pm
Gender: Male
My Puffers: A Pea puffer named Puffy, another Pea puffer named Puff, and a Amazon puffer named Cheeto.
Location (country): America, Georgia
I never bought puffers from an online source
Hopefully the helps!
freshpuffer1
---
---
Fahaka Puffer
Posts: 549
Joined: Tue May 13, 2014 3:39 pm
Gender: Male
My Puffers: Tetraodon baileyi (Hairy Puffer, named Scruffy) / Suvattii (named Badger)
Location (country): USA
Location: Lakewood, WA
Yep, raised from the dead kind of bump!
Since this got brought up again I thought I would comment on the subject. I have two puffers, an Arrowhead and Hairy, both of which were ordered online from Wet Spot in Portland Oregon. Granted Im only one state over in Washington and its like a 2-1/2 hour drive for me, its still cheaper to order than to drive down. It is approximately $28 to ship so I choose that option though I have been to the store numerous times. Have never had an issue with any puffers shipped to me from them.
I do find it interesting how they package puffers for shipment...
Yep, that is a plastic storage container inside the bag that the puffer is shipped in! I asked the person why they do that and was told it was because puffers will bite through the bags. Other shippers apparently just double or triple bag and the fish seem to make it just fine.
Here is my hairy puffer... shipped in a betta cup with holes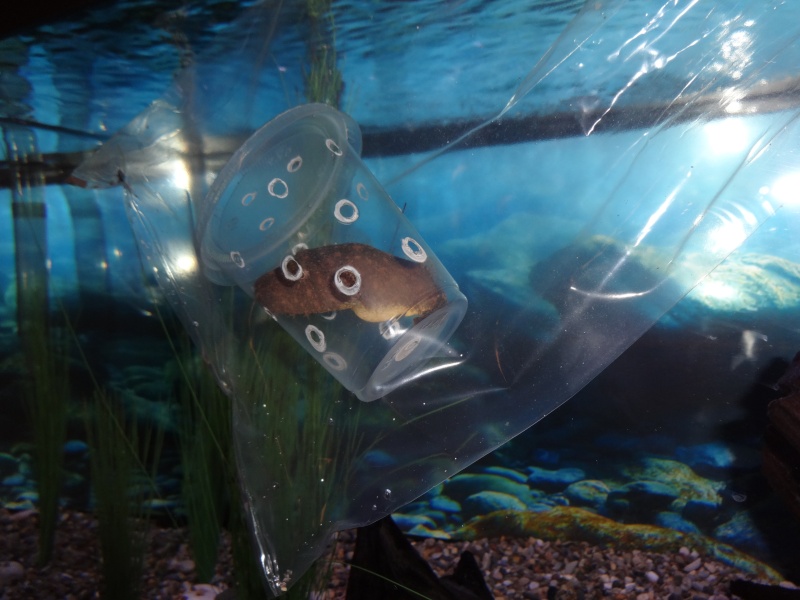 Hopefully this info helps any who are interested in ordering a puffer online.
300 gallon
H. Pearsei, P. Heterospilus,
Bichirs:
Ansorgii, Dabola endli (Tinkissi river), Faranah Guinea lap, sp. Koliba lap, Weeksii
65B
Tetraodon baileyi (Hairy Puffer)
65B
Suvattii (Arrowhead puffer)
---